If you're following our location-based business videos, you know that we help large-scale, chain businesses better serve their local communities to drive store-level performance and lifetime value.
The traditional approach to advertising and marketing has been MASS distribution of generalized content.
But what if these same brands could deliver MASS distribution of local messages in each of the areas they serve?
Let's look at the example of retail pharmacy brands like CVS Health, Walgreens, Rite Aid and so on.
Let's take CVS Health. Both CVS.com store pages and their Facebook location pages provide very general information. And, their "national" page, dedicated to the COVID-19 virus, doesn't show up in any of the website or social media location pages. What a waste!
If CVS wants to be YOUR local pharmacy, then maybe they should act that way.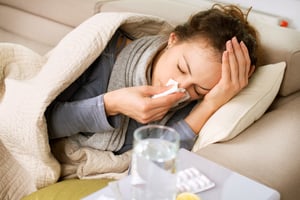 Here's an example: In the Northeast, the barometric pressure has been all over the place for the past 6 weeks. This has caused many to experience sinus issues and congestion. At the same time, we're entering allergy season even as the US is locking down to contain the spread of COVID-19.
Wouldn't it be smart for CVS to geo-personalize the message to their stores to help customers better understand their symptoms? They could provide guidance based on expert opinion, information on adjustments to store hours, stock levels, or pick-up and delivery options.
Or how about in Nashville after the recent tornadoes? Area stores could deliver information to residents about what services and products CVS offers that would be helpful. They could offer tips on how to be prepared for future emergencies. There's even an opportunity to add in useful information on navigating the current pandemic during a time of flux. That's super-serving customers (current and FUTURE) where they live – literally.
That's pretty high relevance for your store customers (an "audience," if you will). I hate to call it "click bait" but your stores should be seen as the local experts. Don't you think people would be more likely to engage this kind of content over the very general information on a store's "national" page?
The goal of CVS is to convince people that they should be their local pharmacy.
We can help! Our platform lets you create and deploy highly-customized, targeted website location pages or page augments and instantly generate organic and paid social media content to cover any or all of your business locations. With these tools, it's time to get started becoming the local "go-to" for your customers.