I'll give you the answer right here: because most parents are not certified teachers! As you well know, kids everywhere are home from school due to widespread school district closings for what is projected to be weeks. That puts parents everywhere in the, momentarily fun, but uncomfortable position of having to be parents, teachers, gym coaches. Insert here all of the standard parent comments about new math vs. old math and you've found the primary root of the problem.
The simple fact is that parents are not trained to teach math according to the currently approved curriculums. And what about school districts that are changing the entire math curriculum from one method to another for the next school year? It's far too much to expect that this will go smoothly and that students will progress at the rate they should.
So, parents who are lucky enough to have the means, reach out to the local tutoring centers like Sylvan Learning Centers, C2 Education, The Princeton Review, Kumon, and others for help. The problem: Many of these locations are closed. Or are they?
It seems that while many of these locations are indeed closed to in-location learning, some online options exist. But are these companies communicating new or changed offerings well to desperate parents through their marketing communications? Well let's just say that there are lots of opportunities to improve.
First, let's consider best practices companies should follow to communicate their situation, store closure status, available offerings, etc.:
Company website: A great place for overall messaging, sweeping policies and procedures and brand-level announcements.
Website-based store pages: This is where location news should be present. Is the location open? Do you have changed hours? Is virtual tutoring available and, if so, how does it work, for what grade levels, what subject areas? What does it cost? What are available schedules? Do you have homework help available?
3rd Party sites like Google My Business, Yelp, Foursquare, etc.: Make sure to publish adjustments you've made to your store details to these sites as well.
Local Social Media Pages: Assuming you have claimed your Facebook location pages, you should be communicating your location-based status and offerings to the community. This is a great time to connect with parents and offer solutions for newly minted at-home teachers who are struggling to teach unfamiliar curriculums. Could you offer an hour each day of Q&A for parents to figure out how to help their kids? Or a session for students who have questions on a particularly hard math problem they are stuck on?
Email: Assuming you have a good data base of customers and that you know their zip codes, you can email early and often about changes, offerings and solutions. Emails should also drive them to the various channels where they can stay up to date with you.
We took a look at the category and some well-known brands to see how they are faring in this moment?

The Winner: C2 Education
| | |
| --- | --- |
| Website Homepage Header with Continuity Solutions Message | Local Store Page Banner Insert Similar to Homepage Message |
| | |
| --- | --- |
| Facebook Brand Page Post | Social Media Location Page NO POST Of New Solutions and No Recent Post Activity |
Let's chart the others for comparison: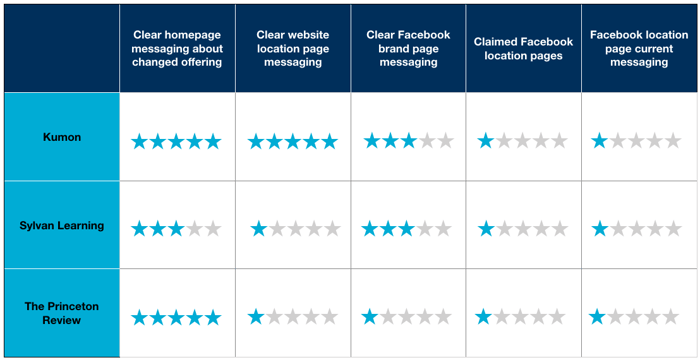 Overall, C2 Education is the best of the bunch. They have succeeded in adjusting to the new reality, providing solutions with C2 Virtual, and through multi-channel communication. We're assuming that they've emailed their database as well. A few key augments and they might just run away with the parent share-of-wallet, assuming that the experience they deliver is top notch. As for the others, a shift to best practices (which could already be underway) will close gaps, but it will be the ability of organizations to move swiftly that will win today and perhaps in the future!

At Longitude73, driving revenue through Brand Localization is at the heart of our client efforts. Our platform lets you create and deploy highly customized, targeted website location pages or page augments and instantly generate local organic and paid social media content to cover any or all of your business locations, at scale. With these tools, it's time to get started becoming the local "go-to" for your customers.