NEWSFLASH: Your customers aren't coming to your website. Well, at least most of them. 85% of customer interactions with your brand happen on third-party sites like Google, Yelp, Facebook, etc.
Yes, really.
Does that mean you don't need to make sure that your Location Landing Pages are top-notch? No, absolutely not. In fact, think of your website as "company property." It's the ultimate authority on your business and you control it completely. More on this in a minute.
Ok so we know that a website is important but in reality, it's not where your audience tends to go. Let's look at where they are going. More than 70% of your audience in social will interact on your "local" pages.

Yet, your local pages are likely a snoozefest doing very little to engage potential customers.
There are three ways this happens (none of them good for your business):
Scenario 1: You manage your location social pages manually and can't create content for each of them. So, you've "claimed" the pages (you have claimed them, right?) and plugged in relevant business information. Now they just sit there with a whole lotta nothing going on.
Scenario 2: You're in Scenario 1, but you've also figured out how to cascade your national content down to your local pages. You've got some brand activity happening on those local pages (but is it enough and is it relevant to your local audience?)
Scenario 3: You've invested in a social media platform that allows engagement at a "location" level. But now you realize it doesn't come with fairies who will magically generate locally-relevant content. You're living in Scenario #2, but also paying for a SaaS platform with capabilities you aren't making use of.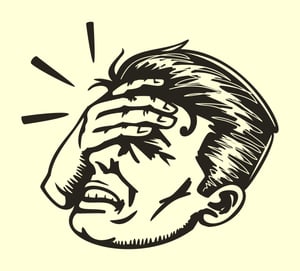 Make no mistake: your social media presence likely falls into one of these categories. So how to make it work harder (and smarter)?
The challenge is not only meeting your customers but engaging them.
Remember these three main principles:
Be Present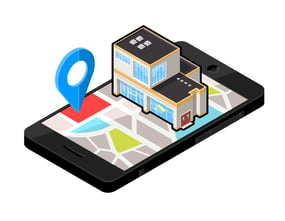 You should have a "store finder" on your website and one landing page for every location. Each landing page should be complete with up-to-date business information. This way, you increase search engine authority and make it easy for your audience to find you.
Pro Tip: Adding local flavor to your location landing pages can be a great way to drive engagement. It can even help your brand get leads or business right from the site. Pulling in your social media feeds can add vitality and freshness to the experience as well.

Also, check your third-party publisher sites to ensure that the information is consistent and up to date across every location. And make sure to link to your locations on Google, Facebook, Yelp, etc. We once audited a bank chain who had taken over locations from other banks in the area. Of their dozen locations, they had many instances of the wrong name, address, number, and hours. If you don't want to do this on your own, there are many services available to help--but whatever you do, get this right.
Be Engaged
So now you've got your store finder, location landing pages and links to third-party sites where you have claimed location pages. If you do nothing else, you've helped yourself out. BUT beware that your potential customers expect you to "be there." They expect your information to be correct. From their perspective you get no love for simply keeping your house in order. Now you need to make use of those pages. Think of them (especially Facebook and Instagram) as places to deliver your brand's "local flavor."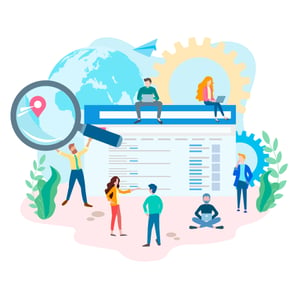 But, merely creating a general brand message and posting it to your location pages is not what we're talking about. Why? Because it misses the point of "local." Your audience in Sioux Falls, SD isn't the same as the audience in Jacksonville, FL or the audience in Brooklyn, NY. They experience differences in seasonality, weather, style, economics, cultural mix, and language... to name a few.
"Flapjacks," "griddle cakes," "hotcakes" or "pancakes" anyone?
Your goal should be to drive genuine relationships to build a specific location's business as if it were the only one. This applies if you have multiple locations.

We recommend that our clients take a "hybrid approach" to marketing across locations. This is a balance between "top-down" and "bottom-up" content. Top-down content from the brand will help gain awareness and interest. Bottom-up content from the locations will drive local credibility and relationships.

There are two technological ways to achieve this at (great) scale. If you're shopping for social media solutions for your location-based business, consider these:
1. Local Tokenization
This allows you to create a single top-down message. Then, almost like Mad Libs, "fill in the blank" with local information. This could be the town name, business location address, product name, or product offer. When you post, every location page will get the appropriate version of the message. If you have 100 locations, this is like getting back 5 hours of time. If you have 1,000 locations, take a week of vacation with the time saved! This way, your national content feels more locally relevant... using limited resources!
2. Local Triggers
The magic of this method comes from localizing content at scale across locations.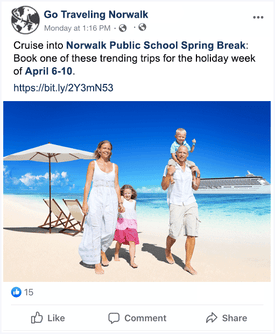 Imagine a travel agency trying to entice families in local towns to book a cruise for Spring Break. Knowing school vacation dates across all your locations could be useful. This would help you provide a different approach versus other travel brands. Combining a reminder of these dates with offers can greatly increase the likelihood of conversion!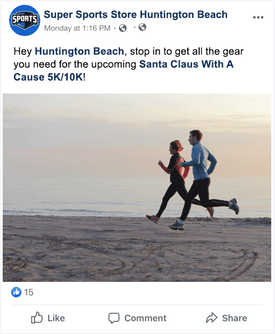 Or how about a sporting goods store? They can connect to their audience by showcasing knowledge and support of local running events, weather and terrain. While they do that, they can be encouraging last minute shopping to gear up for an event.
The point is to create consistent cadence of content for each location. Through local data and dynamic capabilities, you open up new avenues of content creation you never could have imagined. You might even start to be interesting enough for people to take notice and engage with you!
The characteristics and benefits of this approach are as follows:
Unified Content Strategy
Both the brand and location owners are on the same page about what to communicate to what audience, where and when.
Brand Stewardship
Make sure messaging always aligns with brand image and voice. Have guidelines, set content categories, asset libraries, and an approval process.
Strong and Authentic Local Presence
Building the local brand relationship is important. That's true for organic, paid, and even engagement with customer comments or reviews.
Central and Local Reporting
Learning from the audience at the brand or location level is critical to building a winning strategy for the future.
Be Interactive: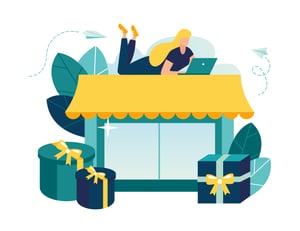 Now you're easy to find and sharing engaging, useful content regularly. Your local audience begins to build, comment, and post reviews. (Pro Tip: Did you know that almost EVERYONE consults online reviews before making purchases?)


Hopefully most of the engagement on your pages is positive. If it's not, be sure to approach those comments with a "customer service" mentality. Remember, your business is there to serve them, not the other way around. It's important to take a proactive approach to audience engagement even when there are issues. Engaging bad reviews can actually be more fruitful than getting good reviews. It says that you care about your customers and are willing to go the extra mile to make things right.
The challenge with reviews and comments is that they can easily swallow up the time of various members of your team. "Has anyone seen Steve?" "No. Last time I saw him he was going to Yelp and Facebook to answer some reviews, but that was 2 days ago." Poor Steve.
Don't be Steve. There are services that provide the tools to centrally manage reviews. They can help you deliver a great customer service experience while keeping your sanity and managing team resources.
To summarize the benefits of proactively managing reviews:
Improve customer service ratings by showing you care without adding internal resources.

Improve your brand and local reputation through review management, problem- resolution and higher ratings over time.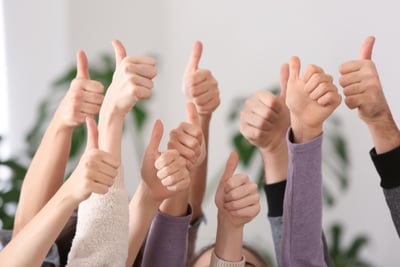 In sum, you need these four things to successfully manage your location-based or location-engaged business:
Website location finder and location landing pages. Increasing your search engine authority and making it easy for potential customers to find you in their area is key. If you manage these well and inject local flavor into them, they'll be more engaging and less like a business card injected into the website.
Social media platform solution. One that truly allows you to deliver unique, dynamic, location-specific content at scale - no matter how many locations you have. The more locations you have, the more important this is.
Local Content Generation. You'll want the resources to create a regular stream of location & audience-relevant content. This should occur across all your cities and towns to deliver that hybrid "top-down" and "bottom-up" approach to content marketing. Don't try this on your own: it's time intensive, difficult to sustain and guaranteed to drive you nuts. Instead, find a partner with the expertise. They exist in the form of data organizations, agencies and hybrid companies.
Reputation management tools. You need these to engage your audience and maintain the highest marks for customer experience. Some platforms include this, but they can also be separate if you have an affinity for one solution over another.
Longitude73 are leaders in Brand Localization. Our Local Content Optimization (LCO) platform helps localize brand experiences to deliver the kind of personal, customized, and hyperlocal relevance that customers expect, across channels and in every city and town.
We always love to hear success stories - and are equally happy to help "unstick" you if you're having challenges scaling your efforts. Good luck -- and Happy Location-Based Marketing!